It was a David vs Goliath challenge, and David has emerged victorious!

We are beyond excited to announce that Pirates Vs. Monsters, the debut picture book from David Crosby and Lee Cosgrove, has beaten the likes of Julia Donaldson and Sarah McIntyre to bring home the gold; winning the 2021 Bishops Stortford Picture Book Award!
Voting for the award, now in its 12th year, is usually restricted to primary schools in Bishop's Stortford but was opened up to schools across the country this year due to the COVID pandemic, and a huge number of schools wanting to take part. Previous winners include Oi Frog (Hodder Children's) by Kes Gray and Jim Field, Odd Dog Out (HarperCollins Children's Books) by Rob Biddulph, and Kitchen Disco (Faber & Faber) by Clare Foges and Al Murphy. And it was at the virtual award ceremony today (Feb 10) that Crosby and Cosgrove became the latest winners thanks to Pirates vs. Monsters, a comic tale of three pirates bragging about the ingenious methods they've used to get the better of three fearsome monsters.
Maverick Managing Director, Steve Bicknell, said: "We've always taken great pride in identifying and nurturing new talent at Maverick and we couldn't be more thrilled for everyone involved. It's wonderful when this kind of recognition comes along."
Crosby, from Sunderland, added: "To go and win it just doesn't feel real. I feel so lucky to have been paired with such a talented illustrator in Lee Cosgrove and to have had such brilliant support from Maverick."
Pirates Vs. Monsters has received some great feedback from children's book bloggers, with one describing it as "an absolute stonker" and another saying it left her four-year-old "in stitches". With such great feedback from David's first book, we just couldn't resist setting up another in the pipeline! 
Look out for David Crosby's second Maverick picture book, coming this September!
In the meantime, you can pick up your copy of the Award-winning Pirates Vs. Monsters here!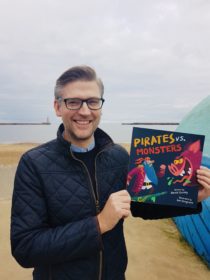 What fabulous news to have, and be able to share in these strange times! 
We are so grateful to all those who have taken part and have voted for this epic pirate tale! We will be celebrating long and hard!