Junior editor and spear-head of our Maverick early readers India Holden, shows us the illustration process of recently released Gold Early Reader, The Haunted Baking Club;
Since our readers contain so many images, we work a lot with illustrators in the run up to publication, from initial sketches, to colour work and final edits the illustration process can take a while. Although already published, I thought I give you a little insight into one of our February Early Readers – The Haunted Baking Club, by Alison Donald.
The illustration process usually starts with me drawing (very rough!) thumbnails to help the illustrator (Kaley Maccabe) with the layout and potential scene angles. Then, Kaley brings them to life with her wonderful sketches! We always approve the sketches before moving on to colours to ensure that we, and the author, are all happy before the illustrations are finished up.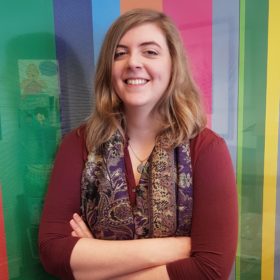 The thumbnails are a sort of guideline to ensure that the text will fit well with the images in the book once it all comes together, and we like to make sure there is a good amount of variety in the image layouts. To choose the sample spread, I usually picture the story happening in my head like a movie and see which page would be the most impactful for a cover image, since we use the successful samples for a temporary, if not final, cover! I typically look for a page where the main characters are featured, and if possible, where something is happening which relates to the title. Then I will doodle what I imagine the scene could look like, and the wonderful illustrator will work on a far better version of it!
 Sometimes, when we commission the rest of the illustrations, we will later find a spread which would work better for the final cover. But I do my best to find one to make an impact for marketing at the sample stage! And I think this one made a really great cover!
Thank you, India!
The Haunted Baking Club is available to purchase now! But if you wanted to take a look at our fill Maverick Reading Scheme, then take a look here! 
We hope you enjoyed finding out a little more about the process of creating our Early Readers. We're really excited to be sharing these snippets with you, and to be taking you 'behind the books' at Maverick – but keep your eyes peeled, there's always more to come!